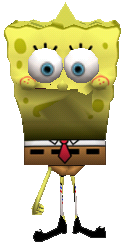 He is Spongebob with the Squidward Virus. Born from hacking a PC game called "Spongebob Squarepants: Employee of the Month."
He creates his clones from his lair just like Weegee creating his clones.
Squidbob and Weegee are friends.
Squidbob's Birth
Long ago, Spongebob has 2 free tickets to Neptune's Paradice. Until someone hacked the animation of Spongebob with Squidward's animation and created Squidbob Tentapants.
What he is
A Weegee
A Hacked Spongebob Character
A Squidbob
Weegee's Helper
A Member of Weegee's Army
What he isn't
An Anti-Weegee
An Enemy of Weegee
Spongebob
Spongebob and Squidward known as "Squidbob Tentaclepants"
An Idiot
Gallery
Youtube Poop Appearence
Versions